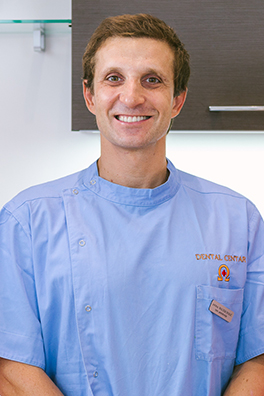 Walter Dukić, DMD, PhD, MS
DMD, PhD, MSc, specialized in pedodontics and preventive stomatology
Mr. Dukić is an Full Professor, specializing in pedodontics and preventive stomatology with more than 12 years of experience in clinical and scientific work, performing treatments of both children and adults. He attended the School of Dental Medicine from 1995 to 2000 with an average grade of 4.46, passing his Specialty Certificate Examination in 2006 and obtained a title of an Assistant Professor in 2009. He is Senior Research Scientist from 2013,  Associate Professor from 2015 and Full Professor from 2021.
He is a member of European Organization for Caries Research (ORCA) and International Team for Implantology (ITI). Alspo is memeber of European Association for Osteointegration (EAO).
He is constantly undergoing specialized training, mostly in fields of oral surgery, implantology, special Straumann Implant System and conservative stomatology, paying particular attention to modern and minimal invasive treatments. Patients admire him for his patience, calmness and dedication.